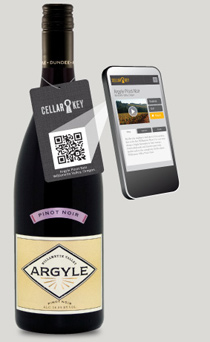 Wine Comes to Life in the Palm of Your Hand
Cellar Key offers insider access to distinguished wines and wineries from around the globe. Take a video tour of the winery, read accolades, meet the winemaker, and explore food and wine pairings directly from your smartphone.
How it Works
Confirm your smartphone has a 2D code reader or download for free on your smartphone at getcellarkey.com
Scan the Cellar Key 2D code*
Explore the wine as the Cellar Key opens the door to your personal journey behind the scenes at the winery
*The Cellar Key 2D code is a 2 dimensional QR (Quick Response) barcode loaded with rich content that can be accessed with any cell phone with a camera and web access.