Spirithouse Pinot Noir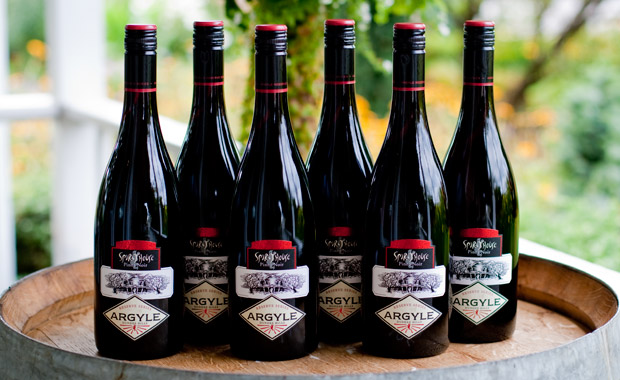 There was a lot of buzz about the greatness of the Oregon 2008 vintage, and this wine is the proverbial proof in the pudding. This youthful wine slowly opens in the glass, first showing off rich spice, delicate oak, and cigar box, then unwinding to let lush dark Bing cherry come to the forefront. On the palate, this wine is like drinking velvet—soft, rich, and luxurious. Flavors reminiscent of red current jam, fresh picked Damson plum, warm forest berry cobbler with a dollop of vanilla bean, and light brushed-leather notes. With so many nuances combined with a clean streak of acidity, this is a wine that will reward for years and years to come.
Winemaker's Production Notes
The 2008 growing season was a "late bloomer". A very dry, cold Spring delayed flowering until July rather than the traditional June time frame. August brought needed rainfall—more rain in August than any one month of March, April or May. As usually happens, the predicted rain in October was called off, and dry Indian Summer weather took hold. Ripening and picking occurred at a nice even pace. Our last day of picking was October 29th.
Wine Production Stats
Varietals: 100% Oregon Pinot Noir
Vineyard: Knudsen
AVA: Dundee Hills
Alcohol: 14%
Cases Produced: 700

Rollin Soles' 2008 Vintage Notes
Very dry and cold spring delayed heat accumulation leading to late bud break and late flowering. When flowering occurs in July (around end of first week in 2008), the weather is warm and sunny. This leads to excellent pollination and set of a rather large crop of grapes. But, we cannot guarantee that there is not enough sunlight and heat left in the growing season to ripen a "normal crop". Crop estimation becomes a very important feature of vineyard management! This year, the average cluster size was a bit lower than what we've seen over the last few years. If one defaults to the old, tired mantra of one cluster per shoot, they likely ended up significantly short in crop. But, its still critical to reduce crop by say 1/2 ton or one ton lower than normal.
The last years we had July flowering were 1991, 1993, 1996, and 1999, with none in the 2000's. Is it possible that new comers missed the historical lessons of almost ten years ago? If thinning is severe, the vine seems to miss the message that it actually has a crop to ripen. So, it is an important balancing act to get the crop not too low, and not too high, to ensure proper ripening before the rain starts and doesn't stop until next July!
August brought needed rainfall. More rain in August than any one month of March, April, and May! This shot of moisture, I am sure, helped the vine shift into veraison gear by September.
In 2008, Argyle started chipping away at sparkling fruit last days of September and first of October. Brilliant sunshine, brilliant natural acidity, and brilliant fruit flavors that seem to make some of the most memorable of Argyle Sparkling wines.
October 3 brought a good shot of rain, but less than predicted. In a normal vintage, this would not be good. But, the cold rain seemed to perk the somewhat droughty vines right up. Vintners were wringing their hands over some more predicted rain. Frost on October 11th knocked off some vineyards in the valley floor.
As usually happens, predicted rain was called off. Dry, Indian summer weather took hold. Ripening and picking occurred at a nice even pace. Last day of picking, 29 October.
White wines are bright and fruity. Nice white peach in Chardonnay, and fantastic, proper botrytis in our Riesling for very ripe Riesling flavors.
Pinots are very dark colored, berries are like biting into an apple texture. Very balanced, and seems to be something like '93 crossed with '99 character.
92 points
Robert Parker's Wine Advocate
"The fruit for 2009 Pinot Noir Spirithouse was sourced from the Knudsen Vineyard in Dundee Hills. It is rounder, richer, and more unctuous... All about pleasure, it will drink well though 2019."
- Jay Miller (2009 vintage)
93 Points
Wine Spectator
"Light, with a savory edge to the panoply of raspberry, chamomile and floral flavors, remaining vivid and focused through the long, expressive finish. Drink now through 2019."
- Harvey Steiman (2009 vintage)
- October 2011
92 Points
Robert Parker's Wine Advocate
"The fruit for 2009 Pinot Noir Spirithouse was sourced from the Knudsen Vineyard in Dundee Hills. It is rounder, richer, and more unctuous than the Nuthouse bottling but not with the latter's precision focus. All about pleasure, it will drink well though 2019."
- Jay Miller (2009 vintage)
- October 2011
90 Points
Wine Spectator
"Zippy with acidity, offering raspberry and red cherry flavors that hint at lime as the sharp finish extends against a supple texture."
- Harvey Steiman (2007 vintage)
- November 2009
93 Points
Robert Parker's Wine Advocate
"The 2007 Pinot Noir Spirithouse is another step up the quality ladder. It is a weighty effort that has plenty of sweet, succulent fruit, lively acidity, and enough ripe tannin to evolve for 2-3 years. Drink it from 2011 to 2019."
- Jay Miller (2007 vintage)
- October 2009