MacRostie Sonoma Coast Chardonnay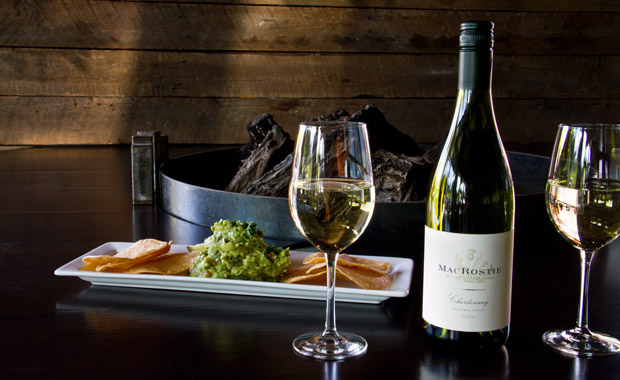 TASTING NOTES: The wine begins with a beautifully fragrant nose of pineapple, mango and guava. On the palate, the tropical fruit elements mingle with lively citrus layers as well as hints of spice from aging in French oak. The finish is clean, refreshing and quickly invites another taste!
WINEMAKING NOTES: To preserve the bright and delicate character of the fruit, all of grapes went direct to press as whole clusters and were then gently pressed. After settling, 85% of the juice was racked into French oak barrels for fermentation, 17% of which were new. To provide a very fresh and focused element to the final blend, 15% of the juice stayed in stainless steel tanks for a cool fermentation.
MacRostie Winery
HARVEST NOTES: The 2015 vintage brought slightly more mild temperatures than 2014. Chardonnay yields were consistent with typical averages, and the vines carried balanced crops in relation to canopies. All of the grapes for our Sonoma Coast Chardonnay were harvested by hand during September and October of 2015.
ORIGIN: The grapes for this Chardonnay came from several exceptional Sonoma Coast vineyards. Sangiacomo and Hi Vista vineyards are located in the Carneros region. We also work with some amazing Russian River Valley properties, including vineyards owned by the renowned Dutton and Martinelli families. Another key vineyard in this wine is Steve MacRostie's own Wildcat Mountain Vineyard, which is situated high up in the volcanic hills of the Petaluma Gap region. Selected for their cool climates and unique growing conditions, these vineyards lend distinct and complex characteristics to our Sonoma Coast Chardonnay.
Wildcat Mountain Vineyard, a signature site for MacRostie, is high up in the hills and considered part of the Petaluma Gap region in Sonoma. All of our vineyards are located in unique cool climate areas of the Sonoma Coast appellation and offer distinct and complex characteristics to our Sonoma Coast Chardonnay.
90 Points
Wine Advocate
"My personal go-to white at my local supermarket, the 2015 Sonoma Coast Chardonnay is real Chardonnay class at a bargain price. It opens with notes of grapefruit, peaches and cream and honeyed toast with a touch of pineapple. Medium to full-bodied, the palate is purely fruited with a lovely suggestion of creaminess plus great intensity and length. With nearly 22,000 cases produced, I'm happy to report there should be loads of this to go around!"
- Lisa PerrottiBrown (2015 vintage)
90 Points - Smart Buy
Wine Spectator
"Features a delicious core of vibrant grapefruit and lemon-laced tangerine and white peach notes, with zesty acidity that keeps the flavors fresh and jumping. Drink now. 25,000 cases made."
- James Laube (2014 vintage)
92 Points
Wine Review Online
"This wine would surely win over even the anti-Chardonnay folks. Its savory dryness is balanced by fresh fruitiness, especially apple and citrusy elements, while the oak presence is more like a dash of spice than a heavy layer of flavor. The sublime duality of richness and delicacy, plus the wine's palate embracing texture, is what truly sets MacRostie Chardonnay apart from the competition."
- Marguerite Thomas (2014 vintage)
90 Points
Wine Spectator
12 Diverse Sonoma Coast Chardonnay's "Take MacRostie's Sonoma Coast bottling for example. At $25, it offers plenty of zesty, citrus-kissed fruit and mouthwatering acidity, making it a welcome guest at the dinner table. The grapes were whole-cluster pressed, with some of the lots fermented in stainless steel to emphasize the bright fruit and aromatics."
- A.W. (2014 vintage)
90 Points - Editor's Choice
Wine Enthusiast
"So bright and zingy in acidity, and so ripe in tangerine, mango, lime fruit and honeysuckle, that you hardly notice the oak influence. Yet, it's there in the form of buttered toast. The result is a big, powerful Chardonnay, clean and vibrant, for drinking now with dramatic shellfish and pork dishes."
- Steve Heimoff (2012 vintage)
92 "Best Buy"
Wine & Spirits
"A number of vineyards contribute to the wine, including Sangiacomo at the base of the Sonoma Mountain and Saralee's in the Russian River Valley. The various sites knit together will. Creating an open and fragrant chardonnay redolent of wildflower honey and chanterelle mushrooms. It's a gentel and harmonious wine that would show well paired with rabbit in a cream sauce."
- Luke Sykora (2012 vintage)