Wither Hills Rosé of Pinot Noir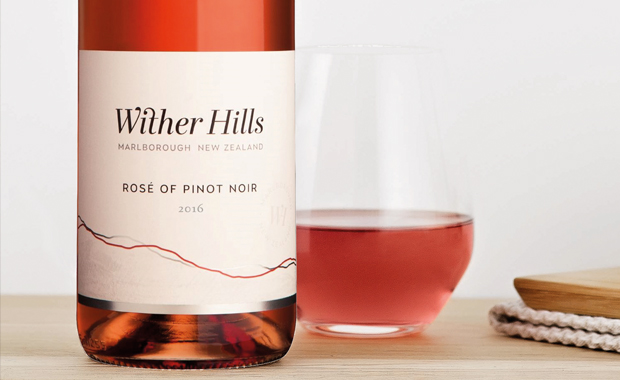 Fresh watermelon pink in color with an enticing subtle crushed ice blue hue, this Rosé of Pinot Noir is refreshing in style with perfumed aromas of rose petals, wild strawberries, fresh raspberries, and white peaches. The palate is elegant, reminiscent of summer berries, with a delightful creamy texture and superb length balanced nicely with bright acidity. This dry style of Rosé is a perfect accompaniment to beautiful summer days. Sally Williams
Winemaking Notes
Strategically situated vineyards were chosen for this 100% Rosé of Pinot Noir from the Wairau Valley. The fruit was harvested at optimum ripeness for a fresh vibrant style of Rosé. The berries were gently pressed, cold settled, racked and cool fermented with selected yeast strains to enhance the unique aromatics and flavors. After fermentation the wines remained on light yeast lees to enhance palate feel and structure. The wines were then racked, blended, filtered, and bottled to retain & capture the lovely freshness of Marlborough Rosé.
Wine Production Stats
Alcohol: 12.5%
Titratable Acidity: 5.13 g/L
Brix: 21 - 23
pH: 3.52

Marlborough began the season with cool temperatures and frost alarms sounded throughout the spring months. This proved to be a particularly challenging time with hard frosts occurring when vine shoots had just escaped their buds. Fortunately no damage was sustained and crops were left to ripen unhindered. This cold snap in early spring eventually gave way to warmer temperatures which persisted for the duration of the season and favorable conditions during flowering led to a successful fruit set. A large rainfall event in the New Year gave vines a much needed drink and some reprieve from the drought conditions that had plagued the district over the previous 18 months. The warm conditions that continued during the autumn months meant there was little pressure during picking and that the grapes were rip when it came to harvest. With 2016 being one of the warmest seasons on record, the bountiful crops were given ample time to reach optimum maturity under marginal disease pressure.
89 Points
Wine Spectator
"Pear and citrus flavors are juicy and bright, with terrific intensity and aromatic accents of peach blossom lingering on the finish. Drink now."
- MW (2016 vintage)
20 Best Rosé Wines Under $20
Forbes
"Full-bodied and rich... Definitely food friendly thanks to a good dose of crispness."
- Nick Passmore (2016 vintage)
89 Points
Planet Grape
"Brisk and sweet-tart with notes of lemon, strawberry, watermelon and crushed seashell. #Beach"
- Catherine Fallis (2016 vintage)
88 Points
Wine Spectator
"The wild strawberry and cranberry notes are crisp and spicy, with notes of toast and orange zest. Drink now."
(2015 vintage)
90 Points
WineReviewOnline
"I'm not sure I've tasted a Rosé from New Zealand before, and this is a fine hello, with bright strawberry, leaf and pepper aromas. It's got a rich texture and a lively finish, with nose elements delivered as promised and adding a little touch of vanilla. Factor in a value price and you've got a go-to springtime pink. "
- Rich Cook (2015 vintage)