MacRostie Sonoma Coast Pinot Noir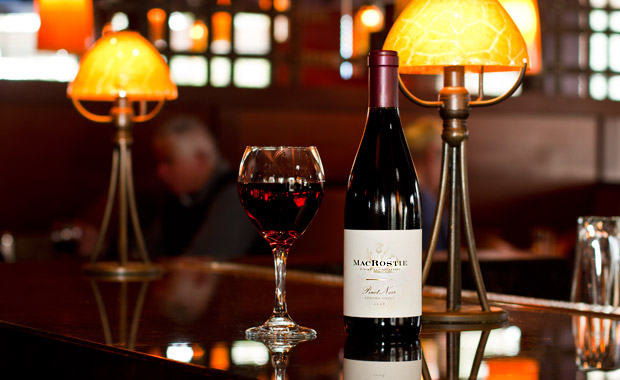 TASTING NOTES: This wine has a rich tobacco leaf nose infused with notes of Bing cherry and brown baking spices. This vintage shows firm acidity, soft tannin and a floral perfumed note that completes the soft palate of juicy red and blue fruits. It will pair wonderfully with a range of foods from cheeses to oily fish like salmon, or even sweet spicy barbecue.
WINEMAKING NOTES:
All of the grapes were de-stemmed into open-top fermenters using our gentle de-stemmer. Following a three-day cold soak to boost color without increasing tannins, the tanks were inoculated with yeast. The caps were managed with a combination of punchdowns and pumpovers to maximize positive extraction, and the must was gently pressed when dry. The resulting wines were aged in French oak barrels, 27% of which were new, for ten months, with a single gentle racking under inert gas to assemble the blend in late March. Bottling took place in August of 2015.
MacRostie Winery
HARVEST NOTES: 2014 delivered ideal conditions with vine growth progressing smoothly to clean, ripe fruit. Due to the variety of vineyards in the blend, and the extreme diversity of their various microclimates, we picked the grapes for this wine between August 29th and September 24th, 2014.
ORIGIN: The grapes for this Pinot Noir came from vineyards in the cool Sonoma Coast AVA, including Champlin Creek, Steve MacRostie's own Wildcat Mountain Vineyard in the Petaluma Gap, Goldrock Ridge on the far Sonoma Coast, and four different Russian River Valley sites—Dutton Winkler Ranch, Balletto, Cummings and our own Thale's Vineyard. This diversity is the foundation for a complex aroma profile in the final blend.
90 Points
Wine Advocate
The 2014 Sonoma Coast Pinot Noir is pale ruby colored, with warm cherries, red currants, dried herbs and a hint of loam. Medium-bodied and elegant, this is a great expression of Pinot Noir at a modest price, with nice length and fine-grained tannins.
- Lisa PerrottiBrown (2014 vintage)
92 Points
Wine Review Online
I appreciate this wine for its artful blend of my favorite Pinot characteristics -- vibrant cherry fruit, dusty dry earth minerality, mild fall spice and a citric quality to the finish that refreshes the palate while lingering pleasantly. Another fine example of what's turning out to be a spectacular vintage for Pinot Noir in California
- Rich Cook (2013 vintage)
91 Points
Wine Enthusiast
The winery's larger production offering, this is made from a handful of vineyards, including many used in vineyard-designates. Blending prowess shows in this wine that explodes in plum and clove. Tight, bright acid buoys flavors of strawberry, cranberry and orange, with a twisted funk of earth on the finish.
- Virginie Boone (2013 vintage)
90 Points
Wine Review Online
Rich black cherry and raspberry fruit are complimented with cinnamon, talc, mild dry earth and touches of mushroom make up aroma and flavor profiles in this nicely priced Sonoma Coast offering. Structured acidity and a long finish that shows a bit of damp earth suggests pairing with roasted meats with tarragon, rosemary and sage.
- Rich Cook (2012 vintage)
90 Points
Wine Review Online
MacRostie's Sonoma Coast Pinot Noir is one of the best values in California Pinot today. It is made in a lean style, with firm tannins that hide much of the fruit at this stage, but lurking in the background there is plenty of strawberry, raspberry, cherry fruit aroma ready to surface as the tannins soften. If you hold this wine another year or two before opening, you may well be pleasantly amazed.
- Robert Whitley (2012 vintage)